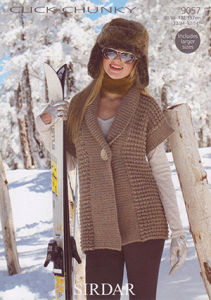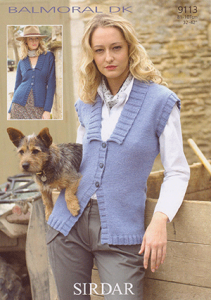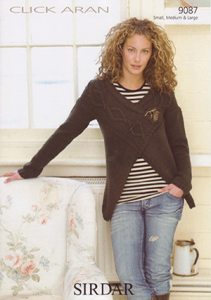 I was taught to knit by my grandmother when I was about 8 years old she bought me a wicker basket with 5 small balls of coloured yarn and a pair of plastic needles by the time she left to go home, I had knitted my first square (with holes of course!) that was my first attempt. My second attempt was better so I made a blanket with oddments of wool. We had it for years afterwards. By my teens I had knitted a few garments always improving as I went along and actually became the owner of my own wool shop for 10 years.
I have been knitting professionally for about 20 years trying all sorts of patterns and also making patterns myself. There are lots of beautiful yarns around today so I have put this website together so that I can use my expertise to knit for others. There are many patterns and lots of colours to choose from, so if you would like a garment made I will be only too happy to do this.
Garments in the shops today often do not fit properly perhaps too short in the sleeve or body or maybe too tight across the chest so the next size is too big. I can also alter patterns to fit any size.
Children and babies garments especially premature can be made. You can email me with your requirements, no job too small or even enquiries about yarns etc I will be only too happy to help with my expertise. I can also offer sewing up service and also finishing off the garment.
Jackie Hall
Yarns
Fizz Yarn – Fashion yarn, Scarves, Shawls, edging, Hats, Gloves and Bags
Foxy – Fashion yarn, Jackets, Shrugs, Boleros, edging for Hats, Gloves etc
Duet – Fashion yarn, summer weight Jackets, Sleeveless Sweaters
Eskimo – Fashion yarn Jackets, Waistcoats, Cardigans, Shrugs, Boleros, Babies Jackets, edging for Hats, Gloves, Scarves also used for making Hats, Gloves and Scarves
Boa – Fashion yarns looks like velvet and can be used to make Cardigans, Jackets, Scarves, Capes, edging for Hats and Gloves
Double Knitting & Chunky – Jackets, Cardigans, Waistcoats and Long Coats
Funky Chunky – Colourful yarn used for Jackets, Cardigans, Hats and Gloves
Baby Yarn – Soft baby yarn, all colours available
Cotton – Used for lightweight Jackets and Sweaters
This is just a random selection of yarns we have listed on this website, more will be added later on, if you do not see a yarn you require please contact me as i can acquire all yarns at various prices.